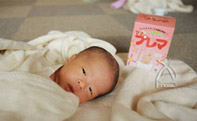 MamaPrema Bathtub Body Wash
Item Number:
MG0259
Price:
3,024 YEN
≒ 27.55 USD
A bathtub body wash kind to both your body, skin and the earth.
Get clean by just jumping in the bathtub!
No need to to use body soap or shampoo anymore, just put MamaPrema in your bathtub and get in!
MamaPrema cleans your whole body using absolutely no surfactants. The main ingredients are baking soda and carbonate, which are also used as food additives. Thus it is both gentle on your skin and environmentally-friendly. Even fish can live in the the same water solution you take a bath in. MamaPrema is a remarkable product boosted by an unique electrolytic method, featuring the high cleansing power of sodium bicarbonate water.
Bathing and wearing clean clothes is essential to keeping your skin healthy.
Existing body soaps and synthetic detergents removes visible dirt but they also have a harmful effect on your delicate skin.
MamaPrema is totally free of these harmful components. We highly recommend it for those who have sensitive skin or who have problems with atopic skin.
And on top of this, it even cleans your bathtub!
Ingredients:
bicarbonate, carbonate, sodium sulfite, and glycyrrhizic acid dipotassium salt
Liquid property:
slightly alkalic
Storage conditions:
keep away from sunlight, heat and moisture
Net weight:
600g
A measuring spoon (for approx. 20g) is attached.
Instructions for use:
Insert 10-30g of MamaPrema for a normal sized bathtub (approx. 180l)
---
Macrobiotic..
This is a regimen that incorporates such concepts as Zen, Feng-Shui, Yin Yang and Tao. These concepts unify the essence of Japans spirituality and outlook on the Universe.. The purpose of the Macrobiotic Asia website is to bring together products from Nature''s bounty as well as processed products and deliver them to the world in the Japanese spirit of harmony.