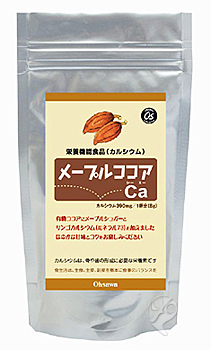 Maple Cocoa Ca96g
Item Number:
MB3435
Price:
1,063 YEN
≒ 10.14 USD
We are sorry that this item is discontinued.Thank you for your past patronage.
This is a drink from organic Cocoa plus Mineral 73 with faint sweetness and body.
-This is also a functional food (Calcium)
-You can enjoy easily tasteful cocoa with natural sweetness
thanks to the maple syrup added. The blending of powdered
natural coral "Mineral 73"enable you to take 390mg of Calcium
by one intake of this product (8g).
Ingredients: Organic cocoa ( Dutch product), Maple sugar (from
Canada and US), Coral calcium ( from Okinawa
Pref.)
Shelf life: 1 year from production date at normal temperature
without opening package.
We are sorry that this item is currently discontinued, and will be on sale again next October.
---
Macrobiotic..
This is a regimen that incorporates such concepts as Zen, Feng-Shui, Yin Yang and Tao. These concepts unify the essence of Japans spirituality and outlook on the Universe.. The purpose of the Macrobiotic Asia website is to bring together products from Nature''s bounty as well as processed products and deliver them to the world in the Japanese spirit of harmony.