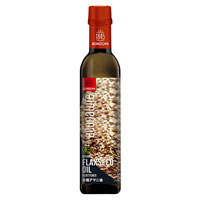 Bordoni Organic Flaxseed Oil 230g
Item Number:
MB0010357
Price:
1,944 YEN
≒ 15.20 USD
Cold-pressed, first-pressed organic flaxseed oil with subdued bitterness and natural sweetness.
- Organic JAS-certified
- Cold-pressed extraction for optimum flavors
- Less bitter and easy to consume
- Consume as it is, or use as dressing or topping for tofu and natto and other types of raw-food preparation
- contains 54% alpha-Linolenic acid (omega-3)
Ingredients: Organic flaxseeds (grown in America)
Shelf life: 1 year at room temperature
---
Macrobiotic..
This is a regimen that incorporates such concepts as Zen, Feng-Shui, Yin Yang and Tao. These concepts unify the essence of Japans spirituality and outlook on the Universe.. The purpose of the Macrobiotic Asia website is to bring together products from Nature''s bounty as well as processed products and deliver them to the world in the Japanese spirit of harmony.