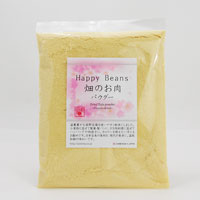 Dried Tofu powder 〜Freeze-dried〜(100g)
Item Number:
00100321
Price:
394 YEN
≒ 2.90 USD
Super food for easy cooking
Koya dried tofu is one of the super foods. This powdered dried tofu is especially suitable for busy people as it doesn't need to be hydrated. Simply mix with flour for baking or add to pasta sauces. You can keep dried tofu in the cupboard as it has a longer shelf life compared with fresh tofu. Great for people who have a restricted calorie or sugar intake.
-Ingredients:Organic soy beans (domestic and non-GMO), Nigari
-How to store: Keep dry and avoid heat and direct sun light.
After opening, seal in an air tight container and keep in the fridge.
-Best before date: 180 days from production date.