Black Soybeans condiment ~Savory sweet~
Item Number:
00100405
Price:
320 YEN
≒ 2.37 USD
Let's eat soy bean and rice together! Vegetarian semi dried seasoning powder for rice.
Soy bean products are apt to lack in our daily meal, so you can consume it easily as seasoning powder for rice. We mixed together the rich taste of gold sesame and the strong taste of black soy bean, which is processed to a "fluffy" state using pressure, and then partly dried to make the seasoning powder mix. We using authentically-brewed soy sauce, mirin (sweet sake for seasoning) and sugar for the taste. Use it on freshly cooked rice or to mix with udon, somen noodle, or pasta. Can also be used as a dried dressing for vegetables. As we made this a slightly sweet taste, children who don't like vegetables might eat them when you mix the Seasoning Powder together with boiled or fried vegetables. No animal derived ingredient used so this is also suitable for vegetarians and vegans.
-Ingredients;Golden sesame, Sugar, Soy sauce, Mirin, Black soybean, Salt
-Consume within 12 months (after opning, seal tightly, keep in refrigerator and consume sooner)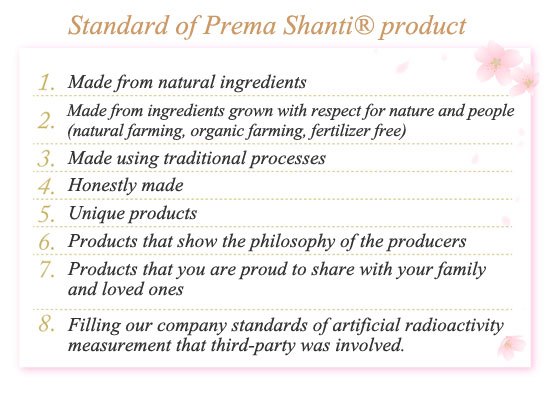 Other Prema Shanti Series products >>
---
Macrobiotic..
This is a regimen that incorporates such concepts as Zen, Feng-Shui, Yin Yang and Tao. These concepts unify the essence of Japans spirituality and outlook on the Universe.. The purpose of the Macrobiotic Asia website is to bring together products from Nature''s bounty as well as processed products and deliver them to the world in the Japanese spirit of harmony.