Biwa ( Loquat ) seeds powder
Item Number:
MB0689
Price:
2,700 YEN
≒ 20.39 USD
Biwa (loquat) seed powder included a plenty of mineral and vitamins.
Ingredient: Loquat seed powder
Weight: 100g
Origin: Japan
Expire date: two years after the production date ( before opening of the bag).
Store method: Put it at a cool place. Be sure to close the bag everytime.
Nutrition table (per 100g):
energy: 319kcal
protein: 5.7g
fat: 0.6g
carbohydrate: 64.2g
dietary fiber: 17.2g
sodium: 4.2mg
How to eat:
3g (about one spoon) for one day, drink with water or boiled water. For children, put the powder in soy milk or juice will be the easier way to drink.
Notice:
Eat the powder directly will stuffed up in the throat.
This is processed from natural ingredient so that the color may change, but the quality of product will not change.
If it does not fit your body, please stop the use.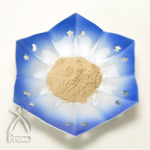 ---
Macrobiotic..
This is a regimen that incorporates such concepts as Zen, Feng-Shui, Yin Yang and Tao. These concepts unify the essence of Japans spirituality and outlook on the Universe.. The purpose of the Macrobiotic Asia website is to bring together products from Nature''s bounty as well as processed products and deliver them to the world in the Japanese spirit of harmony.


Japanese Kudzu Powder 100g
968 YEN

Bio-Normalizer
6,804 YEN

Lift Up Source
3,980 YEN