Biwa ( Loquat ) seeds healthy grain
Item Number:
HF0059
Price:
1,620 YEN
≒ 11.93 USD
Sundried loquat seeds are roasted and sterilized by original method that do not break the nutrition of loquat seeds and make it more easy to drink.
Moreover loquat seed has over 1000 times more B17 than loquat leaf.
Ingredient: loquat seed (roasted)
Origin: Japan
Weight: 100g
Expire date: One year after its shipment from manufacturer.
Store method: Ordinary temperture
How to eat: There is a spoon pack with the products, drink this about 5 or 6 spoon a day is the standard.
You can put is in water or any other drink or soups.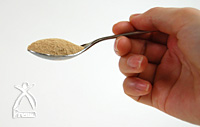 ---
Macrobiotic..
This is a regimen that incorporates such concepts as Zen, Feng-Shui, Yin Yang and Tao. These concepts unify the essence of Japans spirituality and outlook on the Universe.. The purpose of the Macrobiotic Asia website is to bring together products from Nature''s bounty as well as processed products and deliver them to the world in the Japanese spirit of harmony.