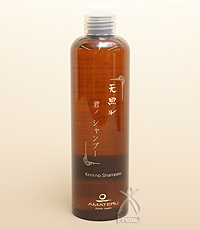 Amateru-kimi shampoo 300ml
Item Number:
AT1
Price:
3,620 YEN
≒ 26.07 USD

Washing and providing moisture
-Interior content: 300ml
-Size:Diameter 16.6cm x Height 18.8cm
-Ingredient: water, cocoyl glutamic acid TEA, cocamide DEA, cocamidopropyl betaine, PEG-60 hydrogenated castor oil, PEG120 methyl glucose diodeate, mucor oil (gamma-linolenic acid), tocopherol, polyquaternium-10, oleyl, rape seed oil, jasmine oil, rosemary extract, ginkgo biloba extract, birch extract, soy protein hydrolysis, hydroxide Na, EDTA-4Na, methylparaben, propylparaben, salicylic acid, ethanol, hyaluronic acid Na, BG
-Country of production: Japan
Why can this amino acid shampoo, "Amateru-kimi shampoo" lather enough?
Many people complain that they have looked for real amino acid shampoo which must be good for hair, but the shampoo couldn't lather enough and was not good usability. Amateru-kimi's shampoo has a technology to solve such problems, and you can enjoy the comfortable and sensitive bubbles on your hair.
---
The Amateru-kimi series of hair care products give you what you need for inside of your hair.
Once taken in hand, You get a miraculously smooth and soft feeling as your cells of hair get hydrated. In a moment, you can experience the Amateru-kimi ingredients providing full of what you really need.
Users' Voice
In order to protect my hair and skin, I started to use a set of additive free shampoo and conditioner. My hair was already damaged and rough, so I was thinking what to do. After I used "Amateru-kimi", I was so surprised because my silky and manageable hair was coming back with just one use. I found myself touching my hair many times, because it was feeling so nice.
In the morning, after I got up, even if I thought I had dried well and styled my hair with a dryer, it used to get messy when I arrived at my office. But after I started to use a series of "Amateru-kimi", my hair became easy to manage, and no tangles! That is a great change.
Amateru-kimi hair care series >>
---
Macrobiotic..
This is a regimen that incorporates such concepts as Zen, Feng-Shui, Yin Yang and Tao. These concepts unify the essence of Japans spirituality and outlook on the Universe.. The purpose of the Macrobiotic Asia website is to bring together products from Nature''s bounty as well as processed products and deliver them to the world in the Japanese spirit of harmony.


Japanese Kudzu Powder 100g
968 YEN

Bio-Normalizer
6,804 YEN

Lift Up Source
3,980 YEN