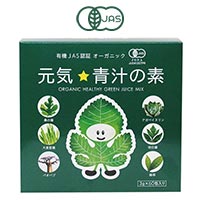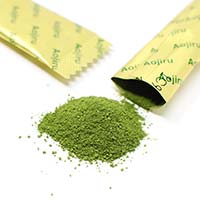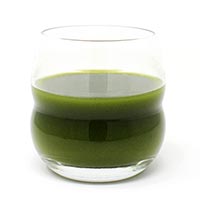 Organic Japanese Green Juice
Item Number:
00101243
Price:
6,300 YEN
≒ 45.37 USD
Drinking green juice called "AOJIRU" is very popular in Japan and
is a good way to stay healthy.
We have succeeded to obtain both deliciousness and nutritional balance with several studies.
Ingredients:
Organic Mulberry leaves powder,Organic Barley grass powder,Organic Angelica keiskei powder,Organic Green tea powder,Organic Baobab powder,Organic Agave inulin powder
Best before from the date of production:
540 days after
How to take:
1 bag/day drink with hot water or water
Selected simple and high quarity ingredients:


Mulberry leaf:carry dietary fiber,calcium,zinc,carotene,vitaminB1,DNJ(Deoxynojirimycin) can help reduce swelling, lose weight,lower blood pressures,improve blood lipids.



Barley grass:rich in amino acids,vitamins and minerals.might lower cholesterol and blood pressure,blood sugar and insulin levels.



Angelica keiskei:rich in fiber,vitamins and minerals.functional ingredient "Chalcone" might lower blood sugar,blood pressure,thrombosis preventing.



Green tea:included Catechin is polyphenol which is known as effect of high reduction, sterilization and antibacterials.



Baobab:Baobab is a tree that grows in Africa. Good source of vitamin C,potassium,carbohydrates,and phosphorus.



Agave inulin:high in fiber,low in calories.


Japanese Kudzu Powder 100g
968 YEN

Bio-Normalizer
6,804 YEN

Lift Up Source
3,980 YEN