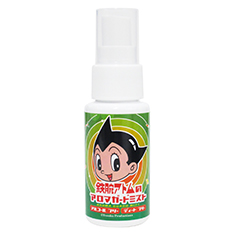 Aroma mosquitoguard mist of Astro Boy(50ml)
Item Number:
00700125
Price:
880 YEN
≒ 6.34 USD
Be refreshed with seven natural materials and fresh lemon fragrance!
We design Astro Boy which is popular among children.
Mini-size that is convenient for carrying around
Inner capacity /50ml
Ingredient / lemon eucalyptus oil, citronella oil, lavender oil, peppermint Oil, lemon grass oil, hiba oil, tea tree oil; deep-ocean water, glycerin, glycerin esters, potassium sorbateK, electrolysis function water
Place of origin / Japan
How to use/ This refreshing aroma mist is especially recommended for outdoors. If fragrance disappears, please spray again.
---
Macrobiotic..
This is a regimen that incorporates such concepts as Zen, Feng-Shui, Yin Yang and Tao. These concepts unify the essence of Japans spirituality and outlook on the Universe.. The purpose of the Macrobiotic Asia website is to bring together products from Nature''s bounty as well as processed products and deliver them to the world in the Japanese spirit of harmony.


Japanese Kudzu Powder 100g
968 YEN

Bio-Normalizer
6,804 YEN

Lift Up Source
3,980 YEN