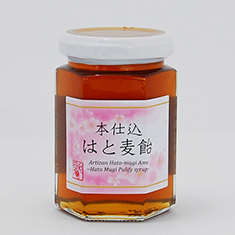 Artisan Hato mugi-ame ~Pure Hato Mugi Syrup~
Item Number:
00100212
Price:
2,142 YEN
≒ 18.86 USD
"Hato mugi syrup" made of traditional skill of syrup making.
The ingredients are simple; that means the taste depends on artisan's skill and hunch. The traditional skill of hato-mugi syrup making has been succeeded since 1822. This history of syrup making gives deep, rich taste with deep amber brown colour, also gives clear and strong taste. The mild sweetness is the characteristic of grain itself, which spreads out into your body. It is saccharized the starch of hato-mugi by the enzyme of malt. Then it simmers the liquid concentration made by straining many times away not to become cloudy, while taking time to skim the scum with patience in a traditional iron pot. Finally it gets sticky rice syrup with pure and clear sweetness and beautiful amber colour. Eat as it is, or use it to add sweetness to the sweets, and also use for simmered dish or teriyaki.
Men have been giving important posts to Hato-mugi as the plant adjusting the body in China since ancient times. The records are seen in Chinese old books "Shinnou honzoukyou" or "Honzou koumoku". The part taken rid of the skin of hato-mugi is called "Yokunin". Even now it is used as health food to promote beauty from inside your body.
* When you take Hatomugi syrup, use clean and dry spoon. When water or some other stuff get into the bin, it may cause to get mold.
* Close the tab tightly after opening, keep in cold and dark place and consume as short as possible.
-Best before date: one year
-Quantity: 180g
-Ingredients: Hato-mugi (tear grass) (domestic), malt (domestic)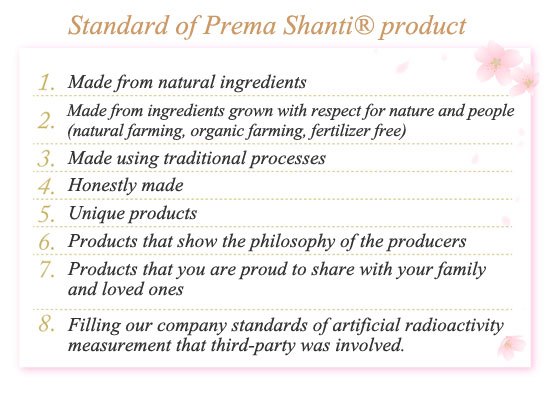 Other Prema Shanti Series products >>
---
Macrobiotic..
This is a regimen that incorporates such concepts as Zen, Feng-Shui, Yin Yang and Tao. These concepts unify the essence of Japans spirituality and outlook on the Universe.. The purpose of the Macrobiotic Asia website is to bring together products from Nature''s bounty as well as processed products and deliver them to the world in the Japanese spirit of harmony.