Persimmon Vinegar ~Unfiltered~
Item Number:
00100202
Price:
668 YEN
≒ 6.14 USD
Mild taste of juicy persimmon for sushi or salad.
This is real authentic persimmon vinegar made by only ripen persimmons with the process of acetic acid fermentation. Recently, there are many fruit vinegar for drink, but this persimmon vinegar is good for using cooking, and it is suitable for any dishes of Japanese, Western and Chinese food. It has mild acid taste, sweet and specific rich taste. Persimmon vinegar has specific nutrition such as citric acid, apple acid, succinic acid, phosphoric acid, gluconic acid, and polyphenol. These are the ones that rice vinegar does not have. The mild taste of the persimmon vinegar is also suitable for rice, so it is recommended to use sushi vinegar. You can change standard scattered sushi into unusual fruity taste. We use organic compost as fertilizer, and persimmon is cultivated with as less chemical synthesis agrichemical as possible. For the adjustment of acid degree, we use the juice of plum, and we do not use any additives such as citric acid and so on.
[How to eat]
For drinking vinegar, dilute about 10 times of water.
It is good to take with adding honey or sugar as your favour.
-Best before date: one year
-Quantity: 130ml
-Ingredients: persimmon (from Nara prefecture), Japanese plum (from Nara, Wakayama, Mie prefecture)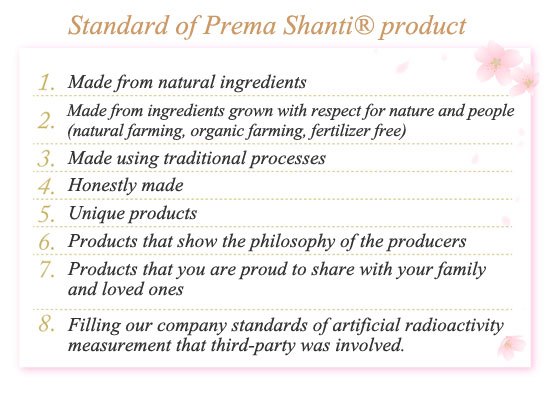 Other Prema Shanti Series products >>
---
Macrobiotic..
This is a regimen that incorporates such concepts as Zen, Feng-Shui, Yin Yang and Tao. These concepts unify the essence of Japans spirituality and outlook on the Universe.. The purpose of the Macrobiotic Asia website is to bring together products from Nature''s bounty as well as processed products and deliver them to the world in the Japanese spirit of harmony.