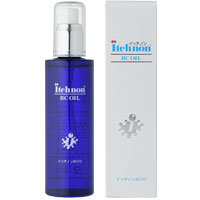 Itchnon BCO (skin oil for body)
Item Number:
MG1452
Price:
8,800 YEN
≒ 63.37 USD

"Itchnon BCO (skin oil for body)"Free shipping fee campaign now underway! (Attention: this campaign for purchasing a single item only. Not available for shipment with the other items.)
Now we offer you special campaign of free shipping so that we would love you to try and realize the goodness of this item. Purchase now during this special offer!
*Using EMS in delivery only.
*Attention: this campaign for purchasing either single item only. Not available for shipment with the other items.
The key word for this product is "circulation". Use this for total care of your body and your weak point. The main compositions are gamma-linolenic acid (moisturizing ingredient) and tocopherol (antioxidation for the product).
Expected effect of Itchnon BCO
For massage oil against hurt or numbness
Hyperthermic action by massage
Complete ingredient:
mucor oil (gamma-linolenic acid), squalane, jojoba oil, soy bean oil, hybrid sunflower oil, trioctanoin, tocopherol, chamomilla recutita, horse chestnut extract, capillary artemisia extract, butyl vanillyl, fragrance, stearyl glycyrrhetinate
How to use:
Apply appropriate doses of this product to the skin.
Attention for use:
Do not use when you have some trouble on your skin.
Do not apply on abnormal point such as wound, swelling, and eczema.
Please note that it could get a stain when it attaches to clothes.
<How to use>
Only to apply it where you feel uneasy! Take a bath after massage and wash away with soap. The effect remains even though you wash it away.
Stiff shoulders back pain.
Coldness and numbness on hands and feet.
Pains and numbness on knees
Swelling
Also use as massage oil to warm from inside.
---
Macrobiotic..
This is a regimen that incorporates such concepts as Zen, Feng-Shui, Yin Yang and Tao. These concepts unify the essence of Japans spirituality and outlook on the Universe.. The purpose of the Macrobiotic Asia website is to bring together products from Nature''s bounty as well as processed products and deliver them to the world in the Japanese spirit of harmony.


Japanese Kudzu Powder 100g
968 YEN

Bio-Normalizer
6,804 YEN

Lift Up Source
3,980 YEN