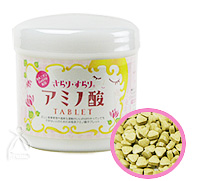 Sarari Surari Amino Acid Tablets
Item Number:
7701
Price:
15,000 YEN
≒ 136.27 USD
The amino acid supplement which contains Cartinine and CoQ10, supports the calorie combustion dieters.
This is a serious amino acid supplement for those who know that proper meal management and exercise are important but still can't do it.
-Content amount:
300 g (one pill of 300 mg X around 1000 pills) , about 3 month's worth.
-How to take:
Try to take 10 pills a day, and please take them with normal water or luke warm water.
If you are in a rush, please try taking 20 pills a day.
-Contents:
Crystalline cellulose, natural amino acids (L-lysine, L-arginine, L-ornithine), citric acid, sucrose esters, capsicum extract, vitamin B2, shellac, cyclic oligosaccharides, corn peptide, Gymnema extract powder, lactose, soy peptide, acid salt L-Cartinine fumaric acid, coenzyme Q10, chromium yeast
十分抱歉,此商品?在?期短缺,下次??的?定?期?未?定。??稍等。
---
Macrobiotic..
This is a regimen that incorporates such concepts as Zen, Feng-Shui, Yin Yang and Tao. These concepts unify the essence of Japans spirituality and outlook on the Universe.. The purpose of the Macrobiotic Asia website is to bring together products from Nature''s bounty as well as processed products and deliver them to the world in the Japanese spirit of harmony.