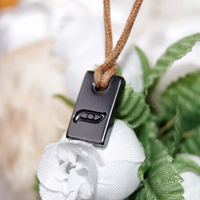 Eyepathy
Item Number:
5245
Price:
12,343 YEN
≒ 88.88 USD
"Eyepathy", the pendants that heals your eyestrain.
People today tend to straint their eyes a lot.
They are surrounded with computers, TV's, etc. always inviting them.
This causes their eyes to suffer from exhaustion.
But we want you to take care of your eyes.
We want you to protect your eyes better.
That is why we would like to recommend a special pendant that helps relieve exhaustion of the eyes.
Osteopathic physician Hitoshi Kimura, who developed "Adio If", has developed a pendant which relieves eyestrain, using undulation/wave motion.
"Eyepathy" resonates wave motion that give you healthier eyes.
Just wear the pendant around your neck, and the resonation of the wave motion will relieve your strained eyes.
Do you want to see the effects of Eyepathy?
Here is the movie of the Eyepathy's effects. Please watch the moive from 8:18.
---
Directions for use
Hang the pendant around your neck.
It is also safe for use around young children, pregnant women and the elderly.
Product details
Material: Zirconia(special hard ceramic )
Color: Blackish brown
Measurements: 12mm x 7mm, 2.5mm thick
String:
Material: Waxed cotton
Color: dark brown
---
Mutsuu Osteopathic Clinic
Director : Hitoshi Kimura (osteopathy)
Founded acupuncture and moxibustion clinic in 1974.
Studied chiropractics and homeopathy, began to carry out an osteopathic massage without physical contact (through undulation) in 1991.
Currently manages Mutuu Osteopathic Clinics more than 30 all over the country, including Mutuu Osteopathic Clinic which you can find in Ginza Chuo in Tokyo
Major Publications:
Healing by Zero Undulation (KK Best sellers)
How to keep fit by Zero Undulation (Tama Publisher)
---
Macrobiotic..
This is a regimen that incorporates such concepts as Zen, Feng-Shui, Yin Yang and Tao. These concepts unify the essence of Japans spirituality and outlook on the Universe.. The purpose of the Macrobiotic Asia website is to bring together products from Nature''s bounty as well as processed products and deliver them to the world in the Japanese spirit of harmony.


Japanese Kudzu Powder 100g
968 YEN

Bio-Normalizer
6,804 YEN

Lift Up Source
3,980 YEN