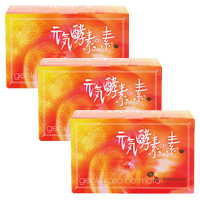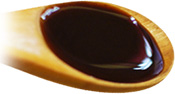 Genki☆Koso Enzyme 300g(10g×30)x3boxes
Item Number:
10002635
Price:
17,748 YEN
≒ 127.80 USD
Great Healthy Enzyme

"You are what you eat"
After all, of course, the basis of the health of the Homo sapiens is an everyday meal.
Meal, it to be healthy, and to live long beautifully which are evaluated in the world are Japanese traditional foods now.
The brown rice vegetable diet that is the macrobiotic meal method is the hygiene that celebrities of the world practice, the beauty method.


If there is neither no disorder nor the problem only by a meal, it is enough, but with that alone most of the Homo sapiens who unfortunately lives in the present age are insufficient.
The cause varies. For example, the change of the eating habits such as the artefacts which I take in meat, dairy products, a surplus of the sugar and am used the synthetic additives for. A pesticide and a chemical fertilizer are used at the time of cultivation even if I consume vegetables positively, and in the first place nutritive value of vegetables itself decreases in comparison with old days and. Or an environmental change. Ultraviolet rays and the atmospheric toxic substance show a tendency toward the increase, and including stress and the irregular lifestyle if put it up; of the drill there is not it. To restore these damage, and to keep right-mindedness, it is the current situation only by an everyday meal that it is very difficult.
Therefore the necessary nourishment recommends an enzyme product as such an item which I can supply well without being easy to add it to an everyday meal, and putting a burden on digestion and absorption.


The plant fermentation extract which the nourishment for health maintenances condensed.
It is the flavor that it is sweet-sour and is easy to eat that is recommended to a person weak in an enzyme drink.
As I am individually wrapped with a paste form, it is easy to eat and is convenient for carrying.
Just eating of course,
Curry and stewed dishes, seasoning of the dressing are available widely.


Raw materials: A peak condition period before opening from a plant fermentation liquid [fruit, vegetables (apple, orange, pineapple, banana, papaya, guava, carrot, kiwi fruit, other), grains (brown rice, Fay John beans, corn, cashew nut, Oates wheat, peas, black sesame, millet, soybean, rye, lentil, adzuki bean, other), seaweed (seaweed, kombu, laver), malt sugar]

expired from the produced date: Two years
preservation: avoid a high temperature, high humidity,
direct rays of the sun, and please save it.
How to take : take 1-3 sachets /day



Japanese Kudzu Powder 100g
968 YEN

Bio-Normalizer
6,804 YEN

Lift Up Source
3,980 YEN