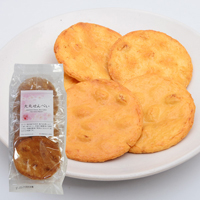 Japanese Classic Brown Rice Cakes-Soy sauce flavor-
Item Number:
00100573
Price:
373 YEN
≒ 2.69 USD
Simple is best for the senbei master
Delicious domestic rice grains have been steamed and then backed. Enjoy traditional soka cracker backed with authentic soy sauce.
-Ingredients;Non-glutinous rice (domestic), Soy sauce (contains non-genetically modified soybeans and wheat), Maltose, potato starch
-How to store: Keep dry and avoid heat and direct sun light.
-Best before date: 120 days from production date.
*After opening, seal in an air tight container and consume as soon as possible.This product is very fragile so the contents might be broken during transportation. Please order this product only after acknowledging this fact.



Japanese Kudzu Powder 100g
968 YEN

Bio-Normalizer
6,804 YEN

Lift Up Source
3,980 YEN