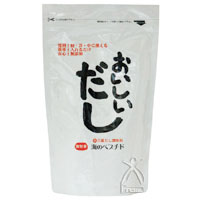 Natural Dashi powder (300g economy pack)
Item Number:
00400213
Price:
1,944 YEN
≒ 14.00 USD
Versatile natural stock for Japanese, Western or Chinese dishes. A good nutritious broth.
100% natural ingredients. A multi purpose stock powder seasoning without added fat, salt, sugar or chemical additives.

Dashi is the backbone of so much Japanese cuisine, as it imparts a umami taste to dishes.


-Ingredients;Starch (derived from cassava), sardines, kelp, bonito, odorless garlic
-How to store: Keep dry and avoid heat and direct sun light.
-Best before date: 2 years from production date.
After opening, seal in an air tight container and consume as soon as possible.
-How to use: Dissolve 10g dashi-powder into 200cc of hot water. Use this broth for miso soup stock or take it as a nutritious broth.


You can also sprinkle on stir fries, noodles or stew as a seasoning.

Good for: MIso soup, Udon noodle, Soba noodle, all other Japanese dishes, Chinese dishes, Western soup, stew, dressing


Japanese Kudzu Powder 100g
968 YEN

Bio-Normalizer
6,804 YEN

Lift Up Source
3,980 YEN