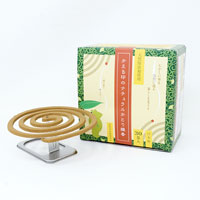 Kaeru Series Natural Mosquito Coil 30 coils
Item Number:
7800
Price:
933 YEN
≒ 6.72 USD

Kaeru Series Natural Mosquito Coils are made using
100% all-natural ingredients
, with pyrethrum as the primary active ingredient, and therefore their smoke is very gentle. Enjoy an evocative fragrance that will envelop you in the aroma of fresh white chrysanthemum blossoms.
*No Antiseptic(sorbic acid, etc.) and artificial coloring
*English product description and directions for use attached
-Effect: Repels adult mosquitoes
-Ingredients: Pyrethrum Powder,Pyrethrum Flour,Machilus Powder,Wood Flour,Coconut Powder
-Burning time: 7hrs 30mins
-Box:13x13x8 CM
-Country of Origin: Produced in Japan, Pyrethrum powder produced in China
-Usage Guidelines:
Please do not leave burning incense coils near bedding, clothing or other flammable materials.
Please do not leave directly on or close to recently painted walls, furniture, flooring or other objects whose colors may be easily altered.
Please dispose of accumulated ash after having allowed it to cool.
Avoid exposing the incense coils to direct sunlight, and store them in cool place with little humidity, out of the reach of children.
Kaeru Series Fluorine Processed Incense Coil Trays >>
Other Kaeru Series products >>
What is the Kaeru Series? >>
---
Macrobiotic..
This is a regimen that incorporates such concepts as Zen, Feng-Shui, Yin Yang and Tao. These concepts unify the essence of Japans spirituality and outlook on the Universe.. The purpose of the Macrobiotic Asia website is to bring together products from Nature''s bounty as well as processed products and deliver them to the world in the Japanese spirit of harmony.


Japanese Kudzu Powder 100g
968 YEN

Bio-Normalizer
6,804 YEN

Lift Up Source
3,980 YEN