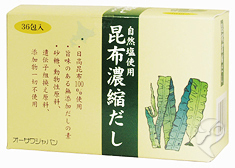 Kombu Condensed Dashi (Large)5g x 36 packs
Item Number:
MB2378
Price:
1,803 YEN
≒ 15.76 USD
Using 100% Hidaka-Japan origin kombu. Savory dashi stock base w/no additive
- Rich flavored kombu extract produced by boiling up high-quality Hidada-Japan origin kombu.
- Easy to prepare an authentic kombu dashi soup stock by adding 1 sachet (5g) in approximately 500cc of water or hot water(for 3 to 4 cups of miso soup)
- Suitable for miso soup, clear soup, saute, cooked dish, pot dish, mentsuyu (noodle dipping sauce), etc.
- No animal-based extract, chemical, additive, or sugar used. Pure flavor of kombu only.
- Individual sachet packaging allowing for usage without measuring. Sanitally safe.
Ingredients: Hidaka kombu (Hidaka-Hokkaido-Japan origin), Amajio (salt), rice syrup, yiest extract
Shelf life: 18 months at room temperature.
---
Macrobiotic..
This is a regimen that incorporates such concepts as Zen, Feng-Shui, Yin Yang and Tao. These concepts unify the essence of Japans spirituality and outlook on the Universe.. The purpose of the Macrobiotic Asia website is to bring together products from Nature''s bounty as well as processed products and deliver them to the world in the Japanese spirit of harmony.