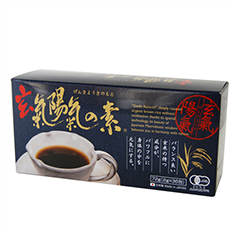 Roasted brown rice drink -genki Youkino Moto
Item Number:
00100486
Price:
2,315 YEN
≒ 16.67 USD
Roasted Brown Rice gives you substantial nutritional value
Domestic Organic Brown Rice is used and a special technique used for the roasting.The resulting super fine powder is efficiently absorbed into your body to give well balanced nutrition.
With its great roasted flavour, it can be used as a coffee substitute for your healthy lifestyle.
[How to drink]
Mix 1 packet well with 150ml water (hot or cold)
The powder can be mixed with other beverages or food as well.
-Ingredients: Organic brown rice (Domestic)
-Best consume:Two years
-Contain: 72g (2gx36packets)
---
Macrobiotic..
This is a regimen that incorporates such concepts as Zen, Feng-Shui, Yin Yang and Tao. These concepts unify the essence of Japans spirituality and outlook on the Universe.. The purpose of the Macrobiotic Asia website is to bring together products from Nature''s bounty as well as processed products and deliver them to the world in the Japanese spirit of harmony.


Japanese Kudzu Powder 100g
968 YEN

Bio-Normalizer
6,804 YEN

Lift Up Source
3,980 YEN