Prema Shanti Series

Prema Shanti
is a name we created, which, in Sanskrit means
"heaven-sent love and inner peace"
.
Thanks to the cooperation of people who are following traditional processes and farming techniques, we are able to offer you exceptional products. These reflect both the original quality of Japanese food and Japan itself as a beautiful country with four seasons.
Good for the spirit and the body, our food products create "heaven-sent love and inner peace".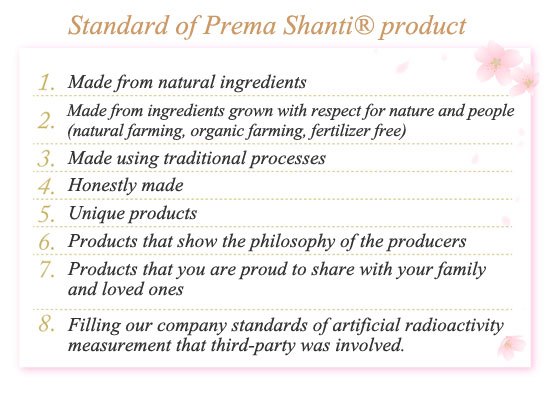 Prema Shanti products are carefully measured for artificial radioactivity in three ways:
1. Independently measured by the producer,
2. Measured by a third-party institution assigned by of our company,
3. A combination of the above two methods.
In order to ensure the safety characteristics of each producer, it is important to assess their quality control. This includes a variety of factors, such as confirmation of the safety of specific growing environments and production plants; residue inspection systems or bacteria management, and measures to prevent contamination by foreign substances. We believe that artificial radioactivity measuring is a significant factor in quality control. Ultimately, selecting products that we are proud to give to children remains the most important quality control standard of our company.
Prices can be converted into your currency.
Converted price based on the exchange rate today will be automatically displayed for your guide by selecting the currency from the pull-down menu. (Please note that the amount billed may vary depending on the currency rate.)
---
No. 00100669

420 YEN ≒ 3.87 USD

Easy to use cut wakame from IseshimaAfter harve...
No. 00100668

250 YEN ≒ 2.30 USD

Chopped Arame from Iseshima.This Arame is culti...
No. 00100667

340 YEN ≒ 3.13 USD

Delicious natural long Hijiki Taste the full fl...
No. 00100605

1,130 YEN ≒ 10.41 USD

A friend of women's health.Pearled Organic job'...
No. 00100082

469 YEN ≒ 4.32 USD

Worcestershire sauce with the vivid taste of al...
No. 00100638

1,250 YEN ≒ 11.51 USD

Quinoa fermented with Koji. NO Wheat or Soy bea...
No. 00100637

745 YEN ≒ 6.86 USD

Quinoa fermented with Koji. NO Wheat or Soy bea...