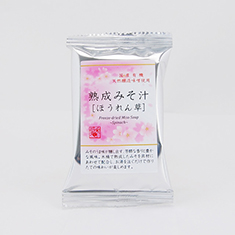 Freeze-dried Miso Soup ~Spinach~
Item Number:
00100330
Price:
259 YEN
≒ 2.39 USD
Only to pour hot water, you can enoy the flavour of miso! Real miso soup with tasty spinach.
The stem is chunky texture, and the leaves are juicy and soft – there is enough amount of soft spinach inside.
You will have good smell of miso at the same time you pour hot water, and that stimulate your appetite. This miso has been aged through a year, feeling four seasons, and that gives it rich smell and deep taste. You do not need any other soup stock. You can enjoy clear and light taste as they do not have any other taste of dry kelp or bonito. This miso soup is mild taste with nutritious rich taste of vegetable and miso. The miso is prepared based on the ingredients, and that brings out the taste of spinach. You can enjoy natural taste of soft spinach together with mild texture of deep fried tofu and chunky texture of seaweed.
[How to eat]
Pour 160cc of hot water and stir it well.
[Using organic miso]
*Organic mixed miso is using organic soy bean (domestic, non GMO), organic wheat (domestic), organic rice (domestic), solar salt.
-Best before date: six months
-Quantity: 8g
-Ingredients: organic mixed miso (domestic), spinach (domestic), Chinese yam (domestic), seaweed (domestic), deep-fried tofu (soy bean from USA and Canada, non GMO), green cibol (domestic), salt, powdered broccoli (domestic), powdered asparagus (domestic )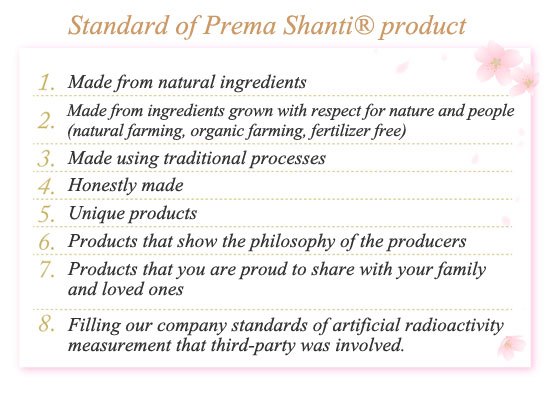 Other Prema Shanti Series products >>
---
Macrobiotic..
This is a regimen that incorporates such concepts as Zen, Feng-Shui, Yin Yang and Tao. These concepts unify the essence of Japans spirituality and outlook on the Universe.. The purpose of the Macrobiotic Asia website is to bring together products from Nature''s bounty as well as processed products and deliver them to the world in the Japanese spirit of harmony.