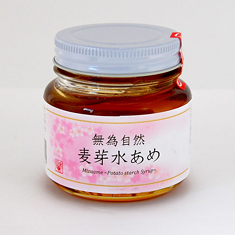 Mizuame (Potato starch Syrup) 160g
Item Number:
00100217
Price:
670 YEN
≒ 6.34 USD
Saccharified 100% of potato starch with malt, gives mild sweetness
Rich taste of vegetable from healthy soil. Using 100% potato starch, cultivated without any chemical fertilizer, agrichemical, or herbicide. Mixing it with malt and saccharifying slowly. This soft and mild sweetness can be produced by traditional production. Compared with many of Mizuame syrup, which is made from cheaper ingredients such as sweet potato starch or corn starch, this product is scarce syrup from malt enzyme on traditional production, made from non-chemical fertilizer and non-agrichemical potato starch. You don't need to care about GMO or agrichemical, and also this sweetness is not from hydrolysis, but from natural enzymatic degradation. This kind of sweetness fits your body naturally.
-How to eat
Take a spoon of this syrup and lick it as it is. Melt it in boiled water and make Ameyu (hot syrup juice), or use it on pancake instead of honey.
[Recommended way to eat]
Use it instead of sugar, such as Teriyaki or simmered dish. This adds mild sweetness and specific gloss on the dishes. You can also use this item for making sweets; Daikon-syrup by confitting Japanese radish in this syrup, and Kinako-syrup by mixing ground soybean in this syrup.
-Ingredients: malt Mizuame syrup (domestic malt, domestic potato)
-Best before date: One year from production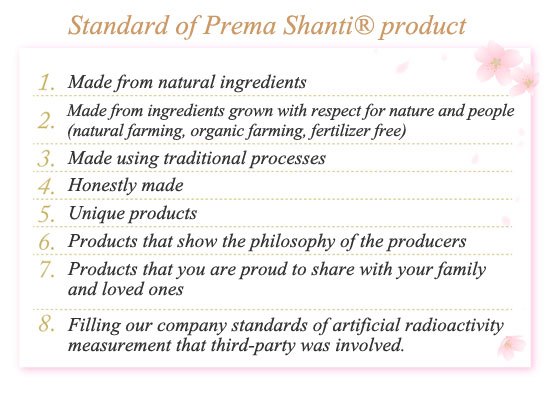 Other Prema Shanti Series products >>
---
Macrobiotic..
This is a regimen that incorporates such concepts as Zen, Feng-Shui, Yin Yang and Tao. These concepts unify the essence of Japans spirituality and outlook on the Universe.. The purpose of the Macrobiotic Asia website is to bring together products from Nature''s bounty as well as processed products and deliver them to the world in the Japanese spirit of harmony.