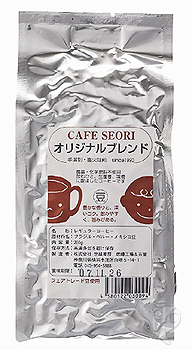 Cafe Seori Original Blend(Beans)200g
Item Number:
MB3137
Price:
1,026 YEN
≒ 9.43 USD
For this product the fair trade coffee beans with rich aroma are
used..
-Organic coffee beans are used.
-Fair Trade beans are employed.
-Flavor of beans is extracted to the maximum by direct roasting.
-Beans are coarse-ground to your fondness and extracted by drip
or coffee- maker.
Ingredients: Organic coffee beans (imported from Brazil, Peru and
Ecuador)
Best before6 months from production date in cool and dark
place without opening package.
---
Macrobiotic..
This is a regimen that incorporates such concepts as Zen, Feng-Shui, Yin Yang and Tao. These concepts unify the essence of Japans spirituality and outlook on the Universe.. The purpose of the Macrobiotic Asia website is to bring together products from Nature''s bounty as well as processed products and deliver them to the world in the Japanese spirit of harmony.