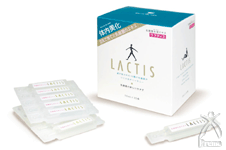 LACTIS - 30 packs * 10ml(DAIGO,Lactis)
Item Number:
9502
Price:
8,500 YEN
≒ 77.96 USD
Lactic Acid Extract Produced by Bacteria!
LACTIS is prepared by fermenting and aging sixteen varieties of lactic acid bacteria during one year at constant humidity and temperature. Then necessary components are extracted to enhance lactic acid bacteria production.
Lactis is fermentation extract made from soy milk produced using organic soybeans, which are animal origin free. Soybeans are cultivated by the contracted trusted farmhouse. Soy milk is an ideal environment for enhancement of lactic acid bacteria power.
Bacterial components of lactic acid bacteria are separated. Secretion from lactic acid bacteria and bacterial components is derived using a special technology.
◆Selected 16 varieties of lactic acid bacteria
SOME EFFECTS OF LACTIS, PROVEN BY SCIENTISTS.


Activates the immune system and improves immune balance


Has a rejuvenating effect (skin, cellular rejuvenation)


Eliminates toxins


Reduces the formation of cancer cells


Maintains bacterial balance in mouth and activates the intestines
◆Long-term aging enhances the quality
Be careful when opening the package as the liquid may splash out.
Precipitate may arise but it does not effect safety and quality.
Carefully read the list of ingredients before intake Lactis if you suffer from any food allergy.
In case you have hard or loose stool or flatulence stop to intake Lactis.
Please note that it is customer's obligation to check, weather it is permitted to purchase and import Lactis to your country and check applicable local import and judicial regulations.
This is a lactic acid beverage with lactobacillus increased to 300 times more.
-This is a lactic acid beverage.
- This is composed of effective nutrients only extracted from the fermented substance cultivating 16 kinds of lactobacillus.
-The potential of lactobacillus increases in case they are multiplied in the circumstances difficult to breed ( soybean milk).
Ingredients: Lactic acid extract ( extract from fermented soybean) , citric acid (originated in sweet potato starch & black malted rice) & lactic acid (originated in sugar beet)
Best before first opening from the date of production: 2 years after at room temperature
---
Macrobiotic..
This is a regimen that incorporates such concepts as Zen, Feng-Shui, Yin Yang and Tao. These concepts unify the essence of Japans spirituality and outlook on the Universe.. The purpose of the Macrobiotic Asia website is to bring together products from Nature''s bounty as well as processed products and deliver them to the world in the Japanese spirit of harmony.